We've had a couple of people call us regarding a problem with the beaded pull and the quick release buckle on their SlimLine™ breaking.
I want to take a moment to explain why this could be happening. First, the Gen. I buckles, like most equipment, can break when used incorrectly. A newer and more resilient buckle is going to be replacing the old buckle very soon. However, the product still needs to be used properly in order to benefit from it, added resilience or not. Improper use can cause buckles to break. CTOMS™ has developed a new hang tag with directions for proper use of the beaded pull tab and the buckle in an effort to prevent this from happening to your SlimLine™.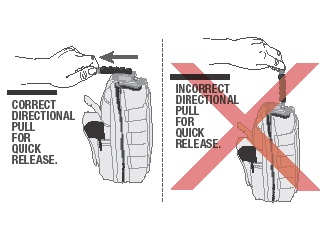 Pulling the beaded pull tab straight out (horizontally) will activate the buckle and ensure the pouch disengages from the mounting panel. Pulling the beaded handle straight up (vertically) will only engage the top of the buckle, jeopardizing the integrity of the buckle which, in turn, may cause it to break.
You gear is important. Take good care of it. Call us with any questions you may have.